About Ahmed
Ahmed has worked with Young Audiences, The Orchestra of Saint Luke's, Carnegie Hall, The Brooklyn Philharmonic and he is currently a Teaching Fellow with the Department of Education teaching music to elementary school students in Brooklyn's Bedford Stuyvesant. He has a Master's Degree in education and is also an adjunct professor at The New School, where he teaches a course on the music and philosophy of Sun Ra. In 1995, Ahmed, along with his wife, poet, and vocalist, Monique Ngozi Nri, created Melchizedek Music Productions (MMP). Ahmed is also the proud father of his three children Rashid, Shahid, and Tara. Tara is also an accomplished violinist and vocalist.
Melchizedek Music Productions produced its first recording in 2020, called Diaspora Meets AfroHorn, Jazz: A Music of the Spirit, Out of Sistas' Place. AfroHorn is a group conceived by Fransisco Mora Catlett, a multi-percussion/composer, who Ahmed met when they were both members of the Sun Ra Arkestra, back in the 1970s. The recording provides an opportunity to document some of the works we have been performing over the last 15 years. The artwork includes a painting by the late violinist and mathematician and all-round genius, Ramsey Ameen. We hope you enjoy it.
Latest News
Thursday, October 26th Panel Discussion @ CARA
with Marilyn Nance, Basir Machawi and Ahmed Abdullah.
Topic: FESTAC, the 2nd Reconstruction and lessons for the 3rd Reconstruction
Friday, October 27th @ 7pm
Mount Morris Ascension Presbyterian Church
15 Mt Morris Park W,
New York, NY
Performance Book signing and Reading with Ahmed Abdullah's Diaspora featuring saxophonist Don Chapman, pianist D.D. Jackson, bassist Alain Martin, multi-percussionist Brandon Lewis, vocalist/poet Monique Ngozi Nri, and the leader on trumpet, flugelhorn, and vocals.
Monday, November 6
3.40 p.m. – 4.55 p.m.
Black Solidarity Day @ Brooklyn College
Woody Tanger Auditorium
2900 Bedford Avenue
Brooklyn NY
Music of the Soul: Afrofuturism and Our Political Imagination
Info: BC@Gmail.com
A Strange Celestial Road
My Time in the Sun Ra Arkestra
by Ahmed Abdullah with Louis Reyes Rivera. Foreword by Salim Washington. Photographs by Marilyn Nance, Val Wilmer, Raymond Ross, Adger Cowans.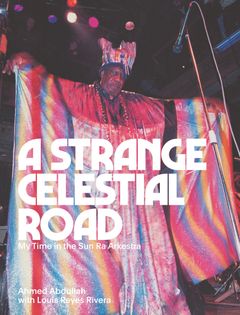 A thrilling account of life with Sun Ra's Arkestra and New York's avant-garde jazz scenes of the 1970s–90s
In this memoir, Harlem-born trumpeter Ahmed Abdullah recounts decades of national and international touring with the Sun Ra Arkestra and charts the rise of the New York loft jazz scene, offering a fascinating portrait of advanced music in Brooklyn and Lower Manhattan from the 1970s through the 1990s, including thrilling stories about the politically important Bed-Stuy venue The East and the author's tutelage under composer and long-time Archie Shepp collaborator Cal Massey. Along the way, Abdullah covers his spiritual development as a Buddhist, battles with addiction, tribulations as a father, lessons from Sun Ra and working life as an educator and cab driver.
Trumpeter and educator Ahmed Abdullah was born in Harlem in 1947. An important figure in the New York loft jazz movement, in 1972 he formed a group called Abdullah, two years before joining the Sun Ra Arkestra, with whom he played for more than 20 years. He is a founding member of the bands Melodic Art-Tet, The Group and NAM, and of the Central Brooklyn Jazz Consortium. Abdullah is the music director at Sistas' Place in Brooklyn, and teaches music at the New School for Social Research in Manhattan and an elementary school in Bed-Stuy, Brooklyn.