About Ahmed
Ahmed has worked with Young Audiences, The Orchestra of Saint Luke's, Carnegie Hall, The Brooklyn Philharmonic and he is currently a Teaching Fellow with the Department of Education teaching music to elementary school students in Brooklyn's Bedford Stuyvesant. He has a Master's Degree in education and is also an adjunct professor at The New School, where he teaches a course on the music and philosophy of Sun Ra. In 1995, Ahmed, along with his wife, poet, and vocalist, Monique Ngozi Nri, created Melchizedek Music Productions (MMP). Ahmed is also the proud father of his three children Rashid, Shahid, and Tara. Tara is also an accomplished violinist and vocalist.
Melchizedek Music Productions produced its first recording in 2020, called Diaspora Meets AfroHorn, Jazz: A Music of the Spirit, Out of Sistas' Place. AfroHorn is a group conceived by Fransisco Mora Catlett, a multi-percussion/composer, who Ahmed met when they were both members of the Sun Ra Arkestra, back in the 1970s. The recording provides an opportunity to document some of the works we have been performing over the last 15 years. The artwork includes a painting by the late violinist and mathematician and all-round genius, Ramsey Ameen. We hope you enjoy it.
Latest News
Saturday, April 29
Diaspora Meets Afrohorn 
Sistas Places
Sets 9 and 10.30 
Reservations Recommended 718 398-1766. $25 
Central Brooklyn Jazz: A Music of the Spirit Festival at Sistas' Place with Ahmed Abdullah's Diaspora Meets Francisco Mora Catlett's AfroHORN with baritone saxophonist Alex Harding, tubaist Bob Stewart, pianist D.D. Jackson, African percussionist Roman Diaz, multi-percussionist Francisco Mora Catlett, poet/vocalist Monique Ngozi Nri and Ahmed Abdullah on trumpet, flugelhorn, and vocals

Monday, May 1st
8.30pm $20
Sisters Brooklyn
900 Fulton St @ Washington
(347) 763-2537
Email: sistersbklyn@gmail.com
Website: sistersbklyn.com
https://www.eventbrite.com/e/bass-bridge-quartet-ahmed-abdullah-monique-ngozi-nri-tickets-606748490067
SISTERS Bklyn MONDAY MAY FIRST Ahmed Abdullah & Monique Ngozi Nri as part of a record release show for Bass Bridge Quartet's "May Day" (zOaR Records) Zoar Records.The Bass Bridge Quartet is an acoustic improvising group of 4 double basses with Che Chen, Dave Hofstra, William Parker, and Dave Sewelson. BBQ was formed at the beginning of 2023 to explore the lower frequencies of improvisation.

Wednesday, May 3rd
8.00 -9.00 pm. Free Concert
The New School Sun Ra Ensemble conducted by Ahmed Abdullah with guests Alex Harding ( Baritone Sax) and Monique Ngozi Nri ( Vocals and Poetry) at Arnold Hall, 5th Floor Auditorium, 55 West 13th St, New York, NY 1011

Saturday, May 13th
4.00 pm – 7.30 p.m.
CBJC Presents Cultures United African Diaspora and Memories of Alma featuring live performances by The Brooklyn AfroBeat Ensemble, The Steve Kroon Latin Jazz Sextet, Ahmed Abdulla's Diaspora Meets Fransisco Mora Catlett's AfroHorn, and fine art exhibits by Ramona Candy and Kamau Anu Patterson
at the Von King Cultural Arts Center/ Eubie Blake Theater,
670 Lafayette Avenue
Brooklyn, NY 11216 Cross Streets: Marcy & Tompkins
For more information call 718 803 7803
A Strange Celestial Road
My Time in the Sun Ra Arkestra
by Ahmed Abdullah with Louis Reyes Rivera. Foreword by Salim Washington. Photographs by Marilyn Nance, Val Wilmer, Raymond Ross, Adger Cowans.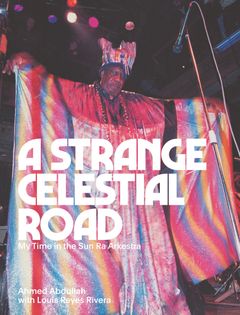 A thrilling account of life with Sun Ra's Arkestra and New York's avant-garde jazz scenes of the 1970s–90s
In this memoir, Harlem-born trumpeter Ahmed Abdullah recounts decades of national and international touring with the Sun Ra Arkestra and charts the rise of the New York loft jazz scene, offering a fascinating portrait of advanced music in Brooklyn and Lower Manhattan from the 1970s through the 1990s, including thrilling stories about the politically important Bed-Stuy venue The East and the author's tutelage under composer and long-time Archie Shepp collaborator Cal Massey. Along the way, Abdullah covers his spiritual development as a Buddhist, battles with addiction, tribulations as a father, lessons from Sun Ra and working life as an educator and cab driver.
Trumpeter and educator Ahmed Abdullah was born in Harlem in 1947. An important figure in the New York loft jazz movement, in 1972 he formed a group called Abdullah, two years before joining the Sun Ra Arkestra, with whom he played for more than 20 years. He is a founding member of the bands Melodic Art-Tet, The Group and NAM, and of the Central Brooklyn Jazz Consortium. Abdullah is the music director at Sistas' Place in Brooklyn, and teaches music at the New School for Social Research in Manhattan and an elementary school in Bed-Stuy, Brooklyn.
Preorder now. Expected to ship by 6/20/2023.