A Strange Celestial Road: My Time in the Sun Ra Arkestra
by Ahmed Abdullah with Louis Reyes Rivera. Foreword by Salim Washington. Photographs by Marilyn Nance, Val Wilmer, Raymond Ross, Adger Cowans.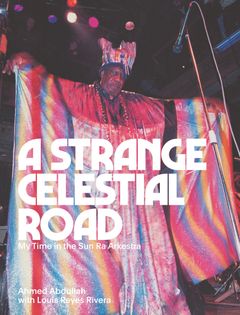 A thrilling account of life with Sun Ra's Arkestra and New York's avant-garde jazz scenes of the 1970s–90s
In this memoir, Harlem-born trumpeter Ahmed Abdullah recounts decades of national and international touring with the Sun Ra Arkestra and charts the rise of the New York loft jazz scene, offering a fascinating portrait of advanced music in Brooklyn and Lower Manhattan from the 1970s through the 1990s, including thrilling stories about the politically important Bed-Stuy venue The East and the author's tutelage under composer and long-time Archie Shepp collaborator Cal Massey. Along the way, Abdullah covers his spiritual development as a Buddhist, battles with addiction, tribulations as a father, lessons from Sun Ra and working life as an educator and cab driver.
Trumpeter and educator Ahmed Abdullah was born in Harlem in 1947. An important figure in the New York loft jazz movement, in 1972 he formed a group called Abdullah, two years before joining the Sun Ra Arkestra, with whom he played for more than 20 years. He is a founding member of the bands Melodic Art-Tet, The Group and NAM, and of the Central Brooklyn Jazz Consortium. Abdullahi was the music director at Sistas' Place in Brooklyn for 25 years, and teaches music at the New School for Social Research in Manhattan and an elementary school in Bed-Stuy, Brooklyn.
Upcoming Performances, Book Readings, Book Signings
Thursday, September 21
Ahmed Abdullah and Monique Ngozi Nri are interviewed by Dr. Brenda Greene. The interview can viewed from 9/22 onwards here.
Sunday, September 24 @ 3pm
129 Stanton Street
New York, NY
Ahmed Abdullah and Monique Ngozi Nri perform for Arts For Arts in the Garden Series.
https://www.artsforart.org/ingardens-2023.html
Friday, October 6th @ 7pm
Book signing and reading at Red Emma's
Baltimore, Maryland
3128 Greenmount Avenue
https://redemmas.org/events/
Saturday, October 7th @ 8pm-10
101 All Saints Street
Frederick, Maryland
Performance Tribute to Lester Bowie with Ahmed Abdullah, Flip Barnes, Dave Ballou and Taylor Ho Bynum
https://www.pointofdeparture.org/FEMA.html
Sunday, October 8th @ 5pm
Busboys and Poets
Takoma Park, Washington, DC
Performance, Book reading and signing with Ahmed Abdullah, bassist Obasi Akoto drummer Eric Kennedy and poet/vocalist Monique Ngozi Nri

Monday, October 9th @ 7pm
Book Reading and signing / Performance with Ahmed Abdullah, bassist Obasi Akoto, drummer Eric Kennedy and poet/vocalist Monique Ngozi Nri
An Die Musik
Baltimore, Maryland
https://andiemusiklive.com/events/
Thursday, October 26th Panel Discussion @ CARA
with Marilyn Nance, Basir Machawi and Ahmed Abdullah.
Topic: FESTAC, the 2nd Reconstruction and lessons for the 3rd Reconstruction
Friday, October 27th @ 7pm
Mount Morris Ascension Presbyterian Church
15 Mt Morris Park W,
New York, NY
Performance Book signing and Reading with Ahmed Abdullah's Diaspora featuring saxophonist Don Chapman, pianist D.D. Jackson, bassist Alain Martin, multi-percussionist Brandon Lewis, vocalist/poet Monique Ngozi Nri, and the leader on trumpet, flugelhorn, and vocals.
Monday, November 6
3.40 p.m. – 4.55 p.m.
Black Solidarity Day @ Brooklyn College
Woody Tanger Auditorium
2900 Bedford Avenue
Brooklyn NY
Music of the Soul: Afrofuturism and Our Political Imagination
Info: BC@Gmail.com
Press
Read the first review of the book in Wire Magazine's July issue.
Dr. Brenda Greene's review in Our Time Press
Bill Shoemaker's review in Point of Departure (click on page one)
Carletta Joy Walker's unpublished review
Refreshing to receive Ahmed Abdullah truth containing complexity and accountability in the reflections and analysis. He navigates his early years growing up in Harlem, his family move to the lower Eastside, his walk into the majesty of the musical life of his music sound—all grounded in the precious moment of now.
His documenting of the loft music movement—musicians understanding and misunderstandings of collectivity and cooperation as they worked and struggled for control—legal rights, money and contracts, and venues. The flow and intersections of dance, spoken-word, movement and presentation as performance and spontaneous manifestation of spirit is all here. The power of having pure music-sound move through beings in bodies not tutored for such an experience. The effects and impact of alcohol, drugs, sex as well as specific spiritual, religious, and social-political realities contributing to the "strange"—as bizarre and as mystical—in A Strange Celestial Road.
Ahmed Abdullah's telling is generous and thorough, his portraits of the musicians. I'm familiar with most from their musical performance, some from interviews; what is included in The Strange Celestial Road is valuable and essential to understanding this period. The continuity and outgrowth from Bebop as well as it being foundational to much of what ensued from it and or was occurring in tandem with it needs to be told and extensively explored. There is specific focus in this volume on members in the inner orbit of the Sun Ra Arkestra, which is connected to an infinity of Satellites orbiting in and out of Sun Ra gravity. Ahmed Abdullah is also generous and humble in his homage to his "teachers," the women in his direct orbit, which significantly includes Monique Ngozi Nri, his "Kindred Spirit" wife, and his children.
Ahmed Abdullah actively sought out reading, learning, and the embodiment of a Buddhist practice in his consistent actions toward change motivated by his own (and others) discomfort with being out of alignment with spirit—his own and the universal spirit—which are one and the same.
Thanks to you Ahmed, and all lighting the long path of this books journey to publication.
Joy & peace, Carletta
Excerpts from A Strange Celestial Road
by Ahmed Abdullah with Louis Reyes Rivera
A Strange Celestial Road is a memoir recounting Ahmed Abdullah's experiences growing up in New York City and developing into a respected musician. Central to the book are the rewarding influences and experiences Ahmed garnered from working with Sun Ra. Still in manuscript form, this autobiographical account of one of today's living legends runs slightly over 300 pages and features a host of photographs never before released. Ahmed Abdullah worked with Sun Ra, on and off, from 1975 until the latter's departure in 1993. Ahmed continued with the Arkestra until 1997, first under the direction of John Gilmore (93-95), then under Marshall Allen (95-97). His experiences with Sun Ra include participation in well over 25 recordings, extensive travel around the world, and numerous club engagements throughout the United States. In 1998, Ahmed Abdullah formed the Sun Ra All-Star Project in an effort to feature many of Sun Ra's former collaborators, while also allowing more musicians opportunity to perform Sun Ra's music. In February 2000, the first Satellites of the Sun Festival was produced by Abdullah at Sistas' Place in Brooklyn. The Festival, an annual event corresponding to Black History Month, presents band leaders who worked with Sun Ra and who tend to include in their repertoire selections from Sun Ra's original compositions. The objective of the Festival is to showcase the fact that Sun Ra has indeed influenced many highly talented musicians. Since February 2001, Ahmed began teaching a Sun Ra Ensemble class at New School University. This course has successfully introduced a number of young musicians to the music, philosophy, lyrics and poetry of Sun Ra. Inquiries about the manuscript or workshops should be directed to Ahmed Abdullah
Excerpts from the Introduction
Aaburg, Switzerland, March 29, 1992.
A train depot of a town. We have just arrived here from East Germany where we had peformed at Dresden, Jana and Leipzig. Someone says, "The hotel is right across the street; if you look straight ahead you can't miss it." The town is in a valley surrounded by mountains. "Are these the Alps?" I ask no one in particular. Most of the fellas in the band are preoccupied with moving their equipment from the train station to the hotel lobby. As I walk up to the hotel, I turn right and look up unto the mountains and notice the castle built into it. Its majesty reminds me of a castle I'd seen before in Edinburgh, Scotland, while traveling with the Sun Ra Arkestra. A man-made structure etched into the fiber of rock and crevice, making it appear as if the mountain and the castle were one. Nature and man forging a common image.The hotel lobby's wooden decor makes you feel at home immediately. For me, it's a rare pleasure to be in a comfortable dwelling while on the road. We're to wait in the lobby until all of the rooms are ready. While in the very relaxed and laid back setting of this area, I receive a page for a long distance call from London, where the new love in my life, Monique Ngozi Nri, is living. It's her birthday today. I had intended to call her as soon as I'd settled into my room. It's great to hear her voice, a blend of the Nigerian, Barbadian and British backgrounds into which she'd been raised. I notice a hesitancy in her voice as I jubilantly wish her "Happy Birthday." While on the phone I am given my room key, and she suggests that I might want to go to my room as she has something important to tell me. What she said weakens me at the knees, a punch for which I would have no defense."Are you sitting down?" she asks."Why do I need to sit down?""I couldn't reach you for the last couple of days. There was no way to contact you in East Germany. I don't know how to tell you this but… Ahmed, your mother passed away."I say nothing. Then, "Oh, no!"Twelve days before, on St. Patrick's Day, just as the Arkestra was to leave from New York, at Monique's urging I had made a special trip to visit my parents. On my way to the airport, I stopped by to say hello and to give them some photos Monique had taken of them when last she visited New York during the Christmas holidays. This was to be the last time I would see my mother alive.After hanging up the phone I somehow manage to find Sun Ra's room to tell him I want to cut the tour short due to these unexpected circumstances. Sitting in his wheelchair, he says little these days in comparison to years gone by. His condition now is one that has made me deeply anxious as it has created such a profoundly new relationship between us. My mentor, my musical and sometimes spiritual teacher, the person who could talk to me for hours on any subject known and unknown to man, woman, or Angel, is now someone I only play music with. His illness has given me an overwhelming sense of impending loss.For many years, Sun Ra had taught us that we had to do the impossible, which he'd say was to give up our death, our ownership of it, our submission to it. His philosophy was about expanding possibilities, of envisioning cities without cemeteries. It was a philosophy of eternal things and immeasurable equations. Now, faced with the reality of my own present dilemma, that philosophy meant little to me, and the person who could have best explained it and walked me through this moment of extreme personal tragedy is unavailable. He has nothing to say, not about death nor about my early departure from the tour.I turn to leave his room and go outside to be in the open air in need of sunlight and nature's beauty. I turn left, walking toward the castle in the mountain, unable to hold back the tears streaming down my face amid the pathways and beautiful flowers. Red, yellow, purple flowers on either side of a running brook. I walk across a foot bridge, heading toward the castle, wondering how such a structure could have been built into a mountain. It is peaceful here, yet, I'm lost and abandoned. In some ways I know I should be in better control, but I have no full understanding of what's now transpiring and its impact on my life. We were to record on this night, and it would be Sun Ra's last recording, appropriately called Destination Unknown.